We Offer Delicious Ice Cream, Frozen Treats, Coffee, Baked Goods, And More In Edgecomb, Maine.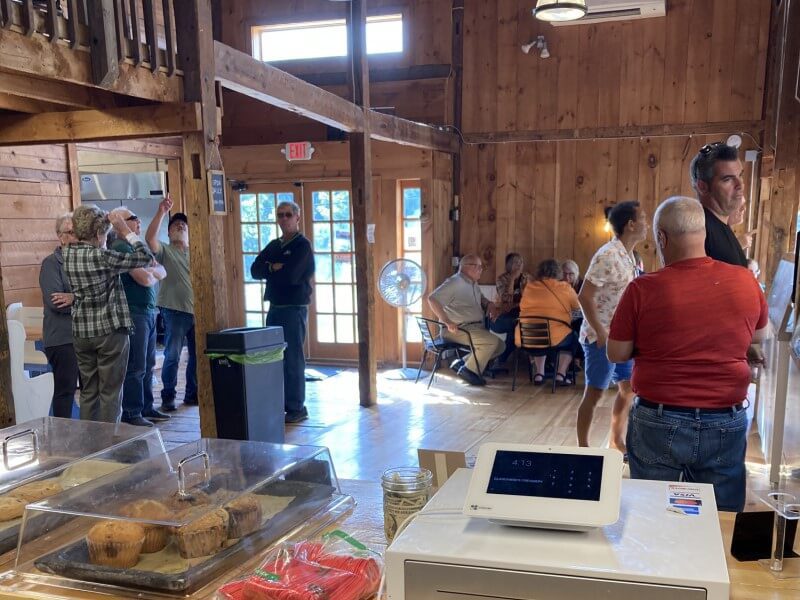 Blanchard's Creamery is the ultimate destination for delicious and homemade treats and ice cream in Edgecomb, Maine! We take pride in our small-batch ice cream, which is crafted with only the freshest and highest quality ingredients. Our menu features a variety of 60+ ice cream flavors, including classic favorites like vanilla, chocolate, and coffee, as well as unique options like caramel waffle crunch and blueberry cobbler. We also offer a rotating selection of seasonal flavors, so be sure to check our Facebook page for updates! In addition to ice cream, we have sorbet, frozen yogurt, and sugar- and dairy-free options. We also carry a variety of frozen treats, including frappes, ice cream flights, sundaes, creamies, smoothies, and frozen lemonade. If you're looking for something more substantial, we have a selection of breakfast items and baked goods to start your day off right. Keep reading to explore our menu!
From 60+ rotating flavors of small-batch ice cream, to frozen treats, smoothies, coffee and baked goods, our menu offers something for everyone. Some of our most popular frozen treats include our thick and creamy frappes, creamies made with your choice of ice cream mixed with toppings, and our famous ice cream flights made with three scoops of ice cream in our homemade waffle cups. Yum!
At Blanchard's Creamery in Edgecomb, Maine, we're passionate about the quality of our ice cream, the churning process, and the ingredients we use! When ice cream is churned quickly, it's called "overrun," meaning that there is a lot of air in the ice cream. Since it's easier and more efficient to churn quickly, a lot of the commercial ice cream found in supermarkets is full of air and melts quickly.
Read More
Blanchard's ice cream is slow-churned and made from scratch in the barn, which makes it creamier and thicker than most mass-produced supermarket ice cream brands (and in our opinion, much tastier!). Our mix contains 14% butterfat content and is made with pure Madagascar vanilla to create a truly rich, quality product. We are proud to partner with local vendors including
Oakhurst Dairy
and
Downeast Foods
who contribute to making our ice cream great!
We make 60+ flavors of our homemade ice cream, including limited edition flavors throughout the season. Can't decide on a flavor? Try our famous ice cream flight and sample three flavors in mini waffle cone bowls perfect for sharing. Another customer favorite is our affogato— a shot of espresso over a scoop of ice cream. Yum!
Do you want to enjoy Blanchard's Creamery ice cream at home or for a future event? We offer our small batch ice cream by the pint and quart to go. You can additionally buy our ice cream by the quart at the East Boothbay General Store. The Newcastle Publick House and Damariscotta River Grill also feature our ice cream.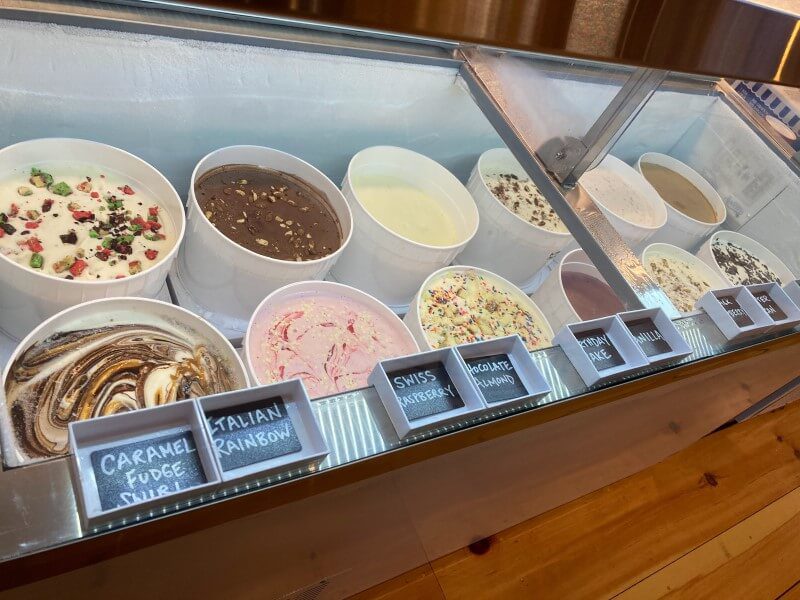 Not all flavors are available at all times.  Some flavors are offered on a limited, rotating basis.*
Call ahead to see what we have today!
America's Birthday Cake
* (available July1-8 while supplies last)
Our premier 4th of July flavor! Smooth cake batter base with red white and blue cake pieces, and red white and blue sprinkles.
Vanilla based ice cream with diced cinnamon spiced apple and homemade cinnamon crumble. It was very popular when it premiered in late 2022.
Banana
* (available Sep 24 – Oct 8)
Loads of fresh bananas in this vanilla based ice cream-tastes just like banana cream pie.
Fresh baked pound cake pieces and rainbow sprinkles in a cake batter base.
Creamy, fruity, classic flavor.
A delicious blend of oatmeal and cinnamon in a vanilla base with swirls of blueberries
Rich, nutty, buttery base with real pecan pieces.
Vanilla based ice cream with swirls of caramel and fudge and chunks of chocolate covered waffle cones.
Vanilla based ice cream with swirled layers of fudge and caramel.
Carrot Cake
* (available Sep 24 -Oct 8)
A delicious spiced ice cream with cinnamon, cloves, and nutmeg with chunks of homemade carrot cake and swirls of cream cheese frosting.
Creamy sweet spiced vanilla ice cream that tastes just like a chai latte.
Cherry Chip
* (available Sep 24 -Oct 8)
An old fashioned favorite with real dark cherries.
Our chocolate is a deep, dark, intense chocolate made with dutch cocoa. It is fantastic in a frappe.
Chocolate Almond
* (available July 21-August 31)
Our rich chocolate ice cream with pieces of crunchy roasted almonds.
Chocolate Chip (not available)
Madagascar vanilla based ice cream with broken chocolate pieces.
Creamy, luscious ice cream with loads of coconut.
Coconut Almond Chip (not available)
Creamy coconut ice cream with chocolate pieces and crunchy almonds. One of our top sellers!
A coffee lover's dream…intense sweet ice cream made with real coffee–no syrup. This is hands down the most popular flavor for our frappes.
Coffee Heathbar
* (not available)
We didn't invent this flavor, but how can you go wrong with mixing abundant chunks of Heathbar candy in our intense coffee ice cream?
Our #1 sellling flavor. Rich,creamy, intense coffee ice cream with chunks of Oreo cookies blended in.
Vanilla based ice cream with loads of Oreo pieces.
Sweet vanilla base with chunks of cookie dough.
Our already intense chocolate ice cream blended with pieces of semi sweet chocolate.
Creamy peanut butter ice cream loaded with chopped Reese's Peanut Butter Cups
We use only the finest dulce de leche from Argentina to swirl into a creamy vanilla base. Never tried dulce de leche? If you like caramel you will love it's South American sister, which is made with sweetened condensed milk.
Did you know that German chocolate is named after Samuel German, not the country?! We use dutch cocoa in this flavor's base, mix in chunks of german chocolate cake, and swirl in a delicious coconut pecan ripple. Thank you to our annual June campground customers for giving us this great flavor idea.
This is perhaps our most refreshing flavor. It is made with crystallized ginger and minced fresh ginger.
A fantastic Maine classic! Grapenuts cereal is made of very crunchy barley nuggets that pair so well with a smooth vanilla base. Try it!
One of our top sellers with good reason. It is hard to beat English toffee and chocolate when it is mixed with sweet vanilla ice cream.
Do you love almond extract? This is your flavor. It is an intensely almond base with pieces of Italian Rainbow cake bites, which also have a strong almond extract flavor. This flavor is a Blanchard invention, with a nod to Pinocchio's on Sanibel Island, who inspired us with their Italian Wedding Bells flavor.
Smooth, sweet, and summery. Just cream, milk, sugar, vanilla, and blueberry puree.
A throwback to the 1950's malts! Great old fashioned flavor that is popular in a frappe.
We use 100% pure maple syrup and fresh walnuts in this classic New England flavor.
Matcha Green Tea (not available
)
This delightfully creamy, mild Japanese flavor is made with sweet green tea powder.
Our #2 selling flavor. Deep, intense mint extract blended with vanilla for a clean and refreshing flavor.
Popular with locals! We use dutch chocolate and rich espresso to create a balanced and deep flavor.
Our Moosetracks has a vanilla ice cream base with swirls of fudge and chopped Reese's Peanut Butter Cups
Mount Hunger Mudslide*
(only available during Schmid Fundraiser, date TBD)
Named especially for the fundraiser we hosted for Edgecomb's Schmid Land Preserve. This flavor has our rich mocha base and is blended with fudge ripples and homemade chocolate chip cookie chunks. Only available during the Schmid fundraiser.
Nutella
* (available Sep 24 – Oct 8)
Big ribbons of Nutella are swirled through a vanilla base in this popular flavor.
Oatmeal Cookie (not available)
This flavor is made with real oats, brown sugar, and a touch of cinnamon. It does not have cookies in it, but it does taste like an oatmeal cookie!
Peach
*(available Sep 29 – Oct 15)
We add extra vanilla and a hint of brown sugar to this flavor to enhance the naturally sweet peaches.
Peanut Butter
* (not available)
This rich, simple flavor is made with smooth, creamy peanut butter and is blended to perfection.
Peanut Butter Fudge Brownie
Take our rich peanut butter ice cream and add big swirls of fudge and chunks of brownies to create a flavor made for the ultimate splurge.
Peppermint Stick
* (available Sep 24 – Oct 29)
Vanilla based ice cream loaded with crushed candy canes and peppermint extract.
Our pistachio ice cream has a deep almond extract flavor and is chock full of roasted pistachios. It is not green!
Pumpkin Cheesecake
* (available September 24- October 29)
It really does taste like pumkin pie! A custard base with real pumpkin puree and cinnamon, ginger, gloves, nutmeg and a hint of brown sugar. Available in the Fall.
Raspberry Cheesecake (available  Sep 29 – Oct 15)
This decadent flavor has cream cheese blended into its base, along with a buttery homemade graham crumble. We complete the flavor with deep swirls of sweet raspberry and mouthwatering chunks of cheesecake.
Red Velvet
* (not available)
A rich creamy base made with cocoa and blended with pieces of red velvet cake and gobs of cream cheese frosting.
A luxurious sweet and salty ice cream with caramel swirls that is packed with gourmet dark chocolate covered pretzels.
A fantastic blend of the campfire classic–vanilla ice cream with chocolate covered graham crackers, fudge swirl, and mini marshmallows.
Snickerdoodle (not available)
We start with a vanilla base that has a hint of cinnamon in it, then add loads of delicious homemade snickerdoodle cookie chunks.
Sweet cream, Madagascar pure vanilla, strawberry puree, and chopped strawberries make this the ultimate summer flavor.
Our signature 4th of July flavor. We simply add big pieces of pound cake to our strawberry ice cream. Try it with whipped cream on top!
Thin Mint
* (available Sep 29 – Oct 15)
We add big chunks of thin mint Girl Scout cookies to an intense mint ice cream base.
Tiramisu
* (not available)
This decadent flavor idea came to us when we tried the most delicious tiramisu at our Italian family gathering. The dessert was made by cousin Sue, so we almost called the flavor "Cousin Sue's Tiramisu"! The base blends vanilla, espresso, and mascarpone with cream, then we add in pieces of our homemade tiramisu. 2023's premier new flavor!
We use only the best pure Madagascar vanilla extract (and plenty of it) in this creamy custard style base.
A vanilla-based ice cream with generous fudge swirls and fudgy brownie pieces.
Wafer Vanilla
* (not available)
Wispy, thin European vanilla wafer cookies are crunched up into a pure vanilla base.
Whoopie Pie
* (not available)
Vanilla ice cream mixed with our homemade chocolate whoopie pies and a delicious cream cheese filling. It doesn't get any more Maine than this.
Our frozen yogurt is mild, sweet, and has 2% fat. We feature one flavor of frozen yogurt at a time, and it may rotate between these flavors throughout the summer:
Black Raspberry Frozen Yogurt
We add a sweet black raspberry puree to a pure Madagascar vanilla base.
Coffee Heathbar Frozen Yogurt
This flavor has a rich espresso base with big chunks of Heathbar toffee blended in.
Cookies and Cream Frozen Yogurt
This flavor has a vanilla base and loads of Oreo cookie pieces.
Dulce de Leche Frozen Yogurt
This flavor has a vanilla base and is blended with big ribbons of dulce de leche.
We typically carry two of our sorbet flavors at a time, rotating between the following flavors
Tangy, sweet, and refreshing!
Delightful tropical flavor. Try it in a frappe mixed with coconut ice cream–mango pina colada frappe.
Sour Blue Raspberry Sorbet
*
When we say sour, we mean sour with this sorbet! Think Warheads. Perfect for the sour seeker. A little goes a long way!
A simple taste of summer. Try this sweet sorbet in one of our frozen lemonades for a sippable refresher.
We always carry a dairy-free option, with rotating flavors. Our homemade dairy-free frozen dessert is a scoopable product that can be enjoyed on a cone or in a dish.
Our current flavors are Dairy Free Blueberry and Dairy Free Chocolate. Both flavors are made with almond milk and coconut milk.
*Dairy Free Chocolate will be available only until the end of September, or when supplies last.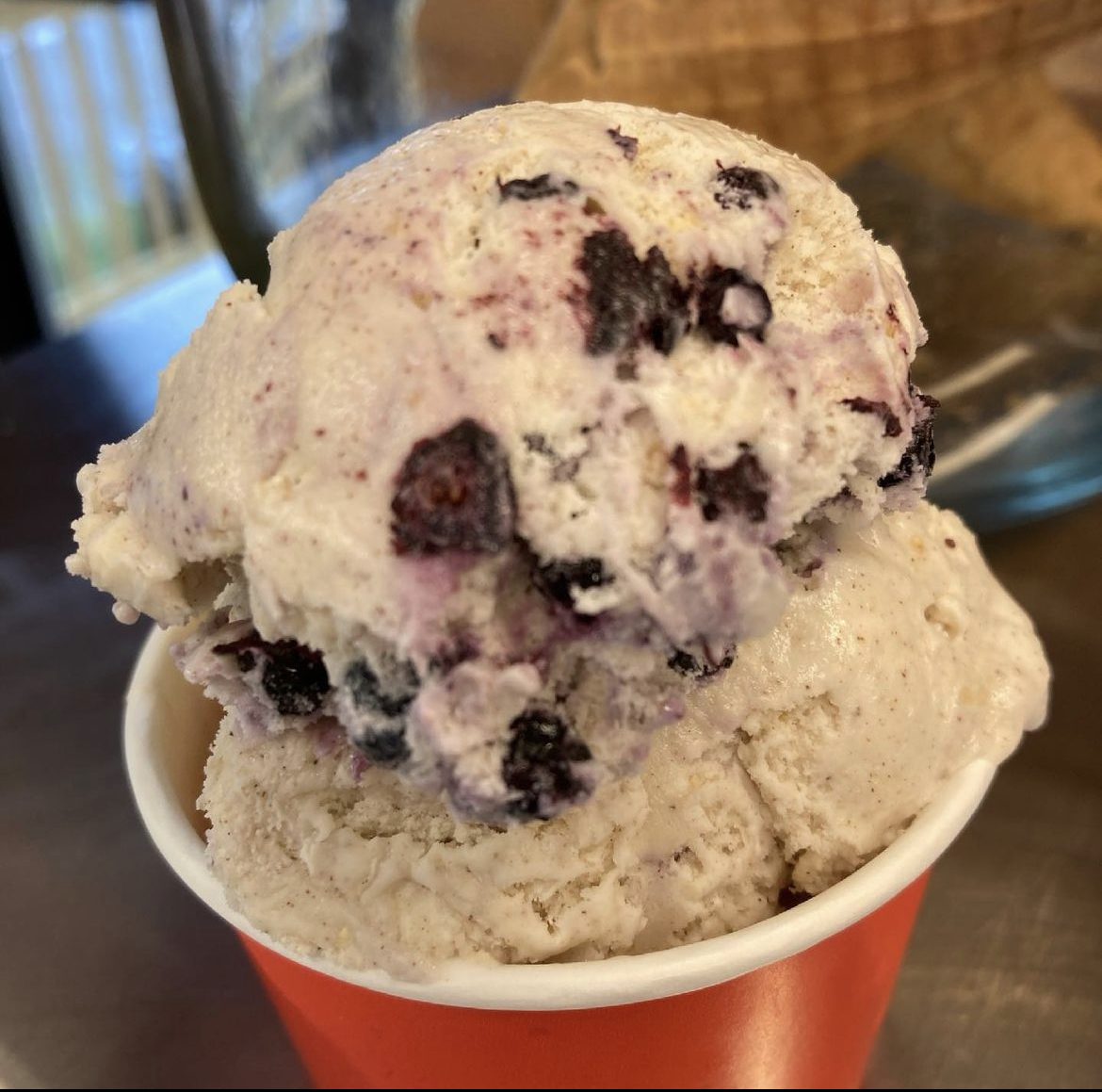 Are you looking for a fun and exciting treat instead of a regular scoop of ice cream? Try a sundae with all the toppings, or enjoy a smooth creamy frappe with any flavor of ice cream. Can't decide on a flavor? Try an ice cream flight with three different scoops! For an extra special treat, order one of our famous creamies – ice cream blended with 2 toppings. Whatever your preference, you'll find something to satisfy your sweet tooth at Blanchard Creamery!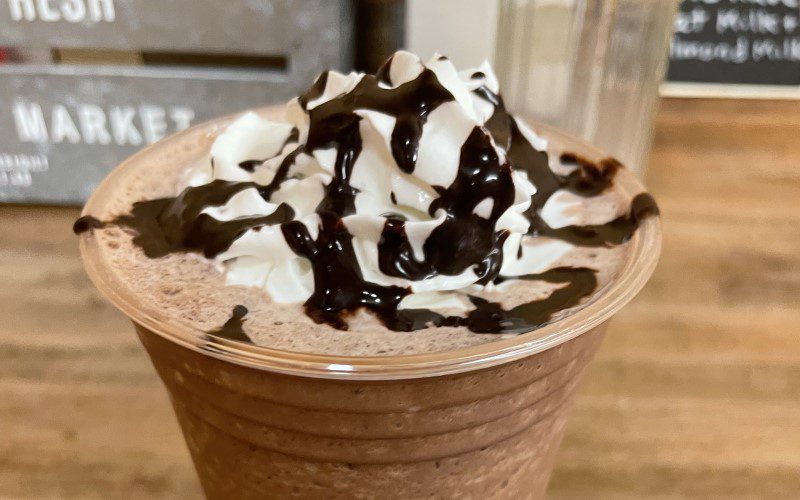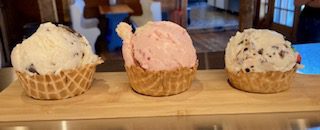 Ice Cream Flights
Our delicious and Instagrammable ice cream flights are a fan favorite! Choose three individual scoops of ice cream (your choice of any three flavors) in our
Read More
homemade waffle cups. Ice cream flights are a great way to try a few different flavors, and are perfect for sharing.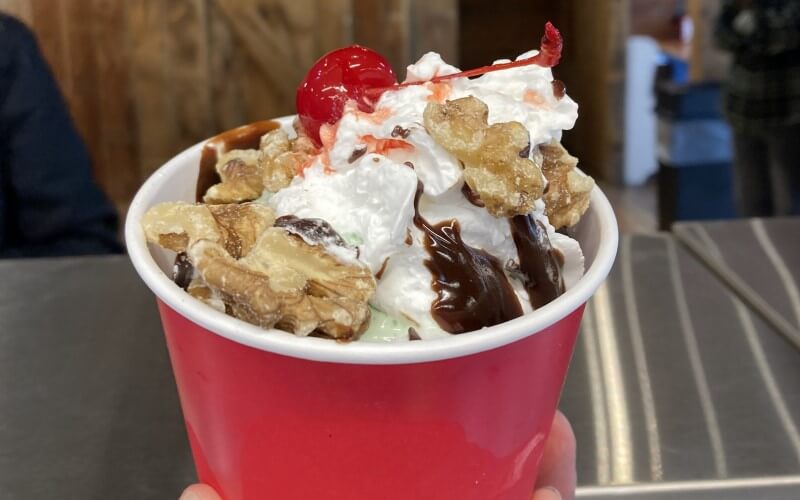 Sundaes
Our build-your-own sundaes are the perfect way to customize your dessert experience with all your favorite flavors and textures! Start with a base of
Read More
indulgent, creamy ice cream. Next, choose from caramel, hot fudge, or marshmallow topping. Then add some crunch and sweetness with a selection of nuts and candies. Finally, we finish off this masterpiece with a dollop of whipped cream and a cherry on top! Feeling extra adventurous? Try a classic banana split, great for sharing.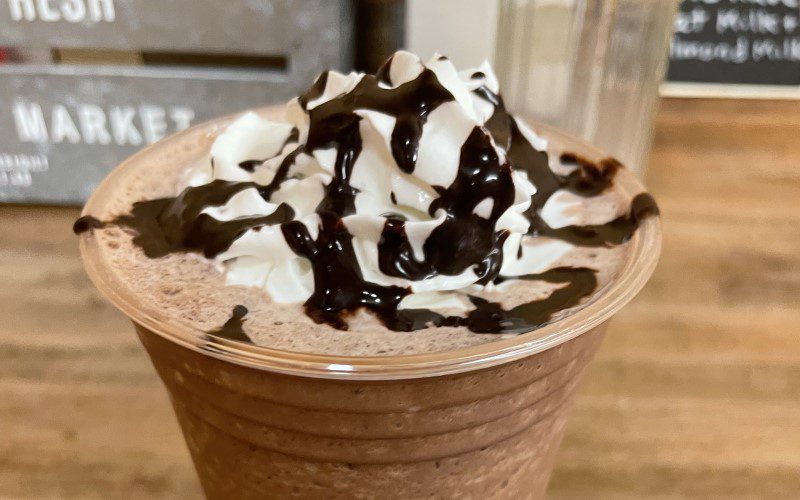 Frappes
Our handmade frappes are thick, creamy, cold, and delicious! We start with your choice of ice cream, frozen yogurt, or soft serve, then blend it with
Read More
milk and syrup to make a totally tasty treat!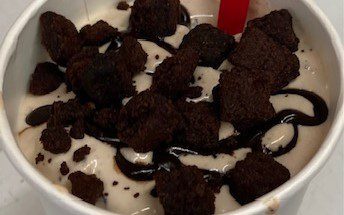 Creamies
Creamies are the ideal way to cool off on a scorching hot summer day! Create your own customized concoction by choosing between hard serve ice cream or
Read More
frozen yogurt, and two crunchy toppings such as cookie dough, Reeses Pieces, mini M&Ms, or Heath Bar. We'll gently mix them for a combination of cold and crunchy deliciousness! Can't decide? Give one of our signature custom Creamies a try!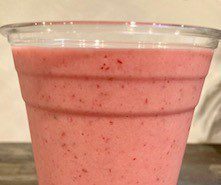 Smoothies
Are you looking for a healthy alternative to ice cream or a quick grab-and-go snack? Our fresh and fruity smoothies are made with real frozen fruit, bananas,
Read More
yogurt, and almond milk, blended to perfection. Choose from strawberry, blueberry, mango, or mixed berry.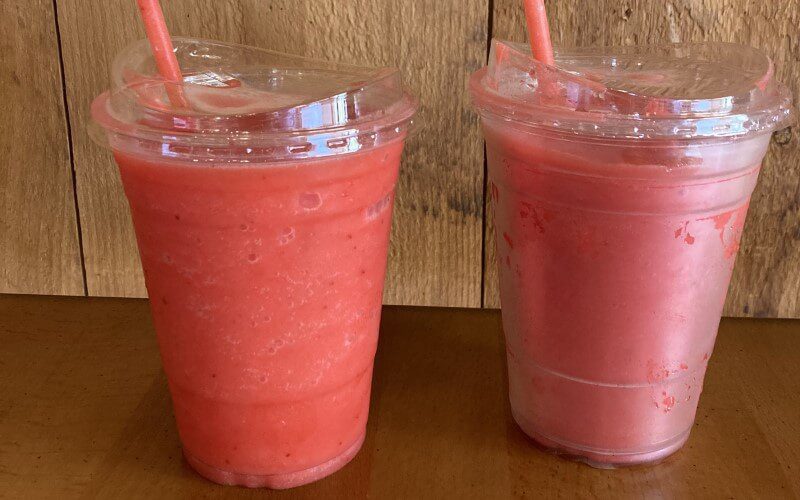 Frozen Lemonade
A delicious and dairy-free treat! Tart, refreshing lemonade blended with our homemade lemon sorbet. Yum!
Start your morning on the right foot with one of our handcrafted espresso drinks! Sip on a latte, or espresso, or enjoy a freshly brewed cup of coffee while enjoying our fresh scones or muffins. For a real treat, try an Affogato – a shot of espresso poured over ice cream. It's truly heavenly!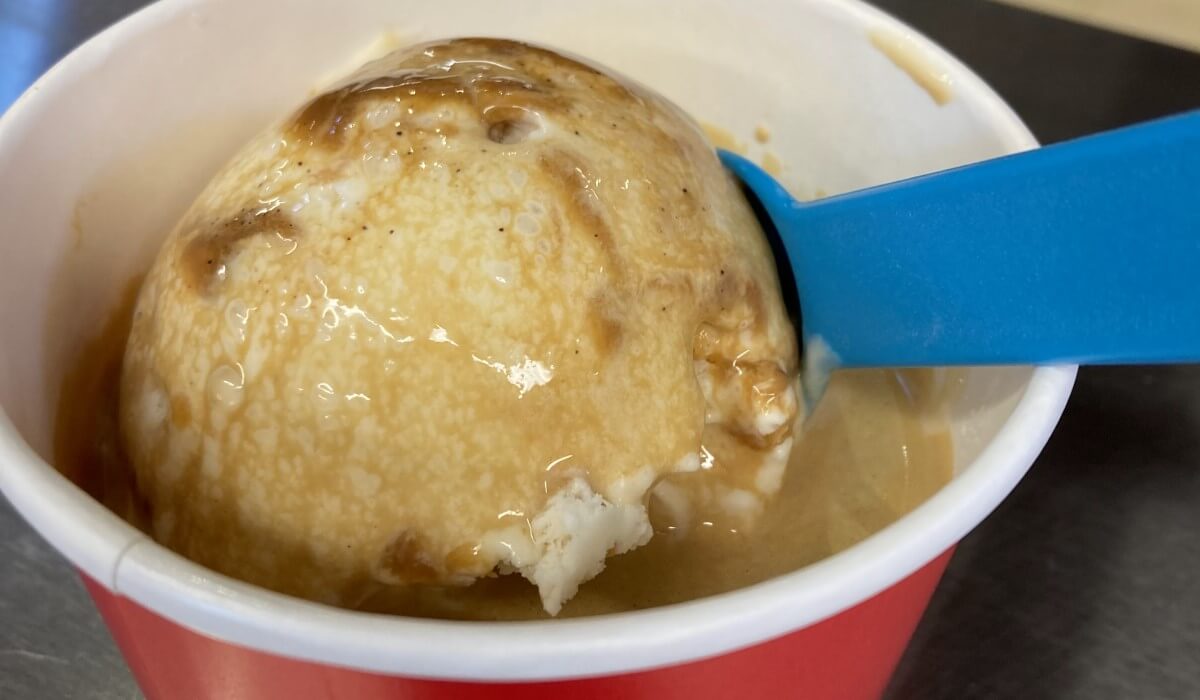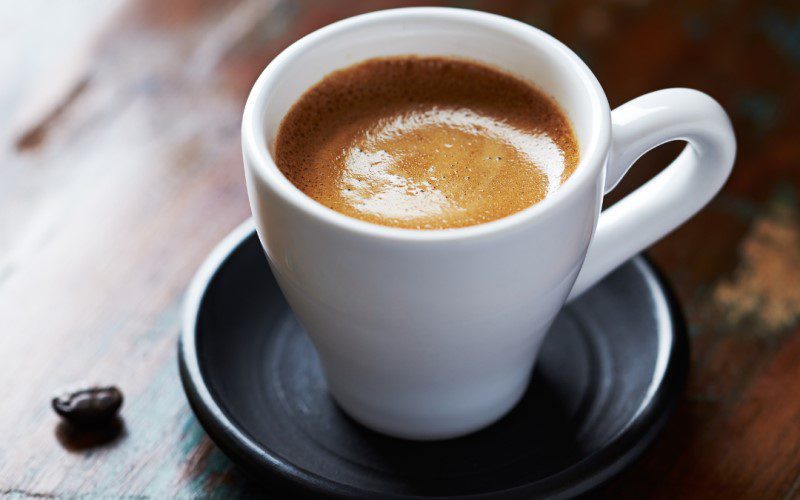 Hot Espresso Drinks
​​Espresso
Americano
Latte
Cappuccino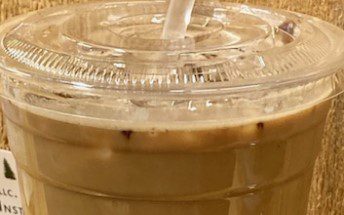 Cold Espresso Drinks
Iced americano
Iced latte
Iced mocha
Iced chai
Coffee
Freshly brewed coffee from Coffee By Design. Served hot or iced. Decaf is available.
Baked Goods and Breakfast
We offer a daily rotation of homemade scones, muffins, quick bread, croissants, whoopie pies, cookies, and more! We also carry fresh bagels to start your day off right. Don't miss our seasonal apple cider doughnuts, only made in the fall! Whether you're spending a relaxing day with family and friends, or grabbing a quick bite before you begin your work for the day, we have something for you!